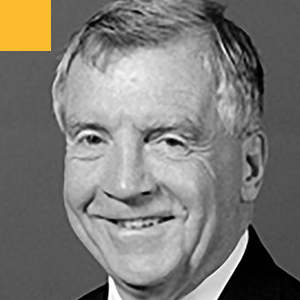 Honourable Laurie Hawn, PC, CD joined the Royal Canadian Air Force in 1964 and received his pilot wings in 1967. In over 30 years in the Air Force, he rose to the rank of Lieutenant-Colonel and served an additional five years as Honourary Colonel of 417 Combat Support Squadron.
Upon retirement in 1994, Laurie entered the financial services business and managed several branch offices and held senior supervisory positions in this highly regulated and demanding industry.
Laurie was politically active for several years and contested the 2004 Federal Election. After narrowly losing that round, he scored a decisive victory on January 23, 2006 to assume his seat as the Member of Parliament for Edmonton Centre. He was re-elected by large margins in 2008 and 2011. He served on a variety of Standing Committees of the House of Commons.
Laurie retired from the Parliament of Canada in October, 2015. His life of public service continues as a member of the Edmonton Police Commission, a member of the Board of the Glenrose Rehabilitation Hospital Foundation, a member of Glenrose Rehabilitation Research and Innovation Technology Council and a member of the Edmonton Salutes Committee.
Laurie is married to his wife of 47 years, Judy, and they have two married children and two grandchildren.